Exporting Plant
Package Plant Export
EverECO is committed to the development of environmentally friendly products. Use starch and professional formula as raw materials. The product after use is 100% biodegradable in recycling. The purpose of the exporting plant is to produce locally and reduce transportation costs. Combining patented equipment with technology with production procedures and other engineering integration. The technical knowledge required for the overall effectiveness, as well as the output of all things and personnel services including technicians.
---
Cooperate with starches that are easier to obtain in various regions and use EverECO's professional formula to become raw materials for production. The products that can be produced are not only food packaging, but also a wide range of mold development. Different molds can be produced according to different purposes. Package plant exports replace existing equipment. Save your time and cost. We will help you install it in your factory. Welcome to join us.

Production Process: Tapioca starch and formula add hot water and stir to form a dough → Cut into proper size → Put in the moulding and hot pressing → Spray waterproof → Baking Chamber → Finish.
Export machines are stirrer, cutting machine, hot press mold and machine, printing machine, coating machine, baking chamber. The raw material is starch and formula. Different ingredients of starch will have different formulas. You can choose the tapioca starch we have prepared in the most suitable proportion as raw materials or use the starch that is conveniently available at your location, and then use EverECO's exclusive formula to help you mix into suitable raw materials.

The mold that made by EverECO is not limited
Mold making is not only for food containers but also other environmentally friendly products can be produced by EverECO's. You can produce different products as long as you change different molds. EverECO invites you to care for the earth together!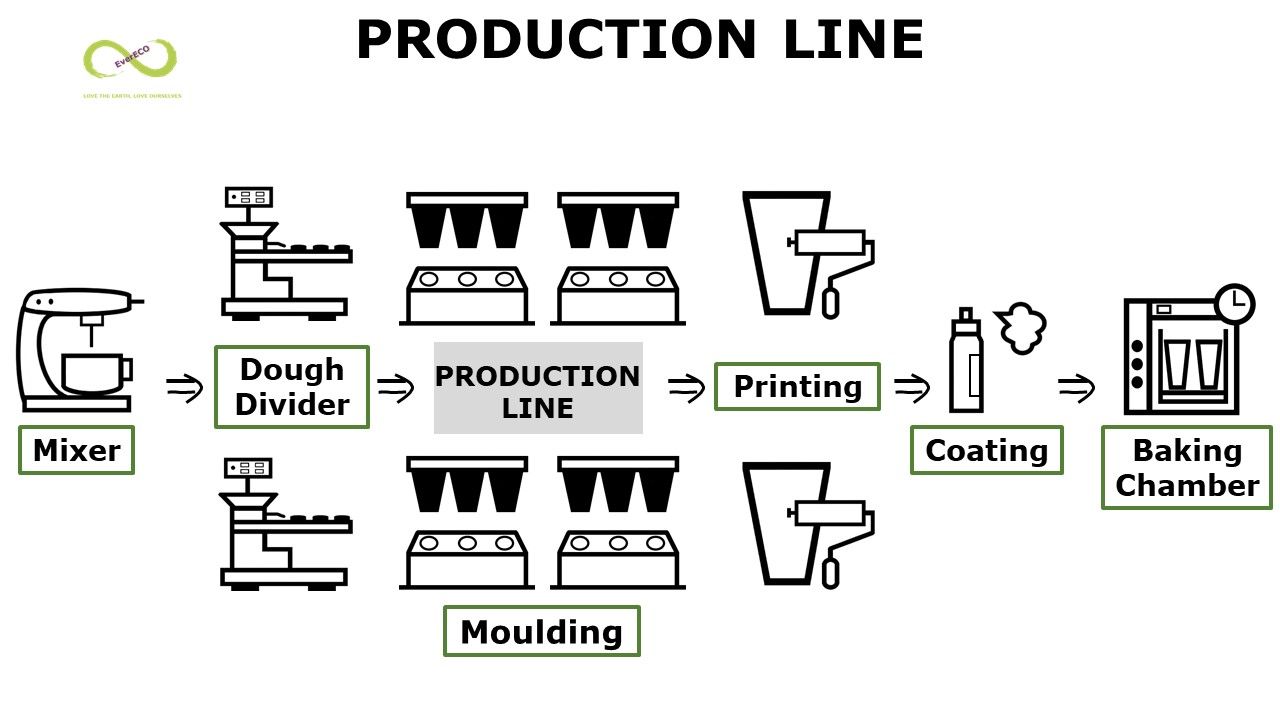 ● Hot Pressing Machine with Safety Equipment
Moulding is the most important part of the production. In this step, the dough-like raw materials are hot-pressed to form products. That can be shaped is the mold with an exclusive patent. Each different product is used with a different mold. Put the mold on the machine. Precise temperature control makes starch and mold fit closely without gaps. An infrared detector is set up at the upper and lower closed areas to automatically detect whether foreign material enters the closed area. Reduce machine damage and operator safety, and avoid safety issues such as pinching.
● Won Multinational Patents, Professional Hot Pressing Molds
Each product has its own mold. Put the raw materials into the mold, and use it with the hot press machine. The range of mold making is very wide. Not limited to food containers, all products that want to have biodegradable and environmentally friendly characteristics can be produced by moulding as long as the mold is designed. Design different food containers and develop different molds according to needs. Before leaving the factory, EverECO will set up all related matters, including angle, material, temperature setting, etc. After getting the mold, install it on the machine and start it.
For other biodegradable tapioca products, please refer to the examples listed on the application page. If you have a product you want to produce, EverECO can create a mold for you to manufacture it exclusively. Welcome to discuss with us in the customized application, we will be dedicated to you.
● Won Multinational Patents, Professional Hot Pressing Molds
The products manufactured by EverECO are based on "be friend with nature" as our motto. The raw material used is starch with the same characteristics as plants. Its greatest effect is that it can decompose the used product by the microorganisms in the soil through the method of home composting. Different starches (tapioca starch, potato starch... etc.) need to be matched with different formula ratios to mix with hot water into the original dough shape that can enter the moulding, so that the dough-like raw material can be smoothly hot pressed into a product.
The raw material will need to be set differently due to the temperature. After many attempts, a specific method has been developed. The product is formed by hot pressing and is thicker than other materials. EverECO helps you achieve a balance in settings and provides the most appropriate formula recommendations.
● Exclusive Patent
In order to facilitate and more accurately control the production of raw materials. The tapioca starch as the initial raw material enters the stirrer and mixes with hot water. The fully automated operation makes the tapioca starch into a dough shape faster. Automated cutting equipment saves time spent on manual cutting. The raw material put into the mold preheated to the high temperature. Hot pressed into finished product. Finally coat on food grade waterproof. The original light beige finished product is complete.
● Package Plant Export, Field Assessment
Our professional team evaluates production line planning. Provide professional advice and mechanical design to make the operation smooth. Simple production process. Deploy the number of machines according to your factory size or annual output. Traditional materials transform into decomposable materials. Love the earth love ourselves.
Video